Hmm. Well, we already went over
Interview With a Vampire
, so let's see what I'm currently reading, that would be
Pirate Latitudes
by Michael Crichton. I believe it's his last book before he died, which really sucks. It's so completely different, too. Instead of being science fiction-y it's
PIRATES
. C'mon, after Johnny Depp in
Pirates of the Caribbean
who doesn't like pirates? Argh, matey, me booty.
Anyway, it revolves around Captain Charles Hunter who's going to attack the Spanish fort/island/thing [forgive me, I have a migraine] of Mantanceros because there's a treasure
naos
there. [Even though Google says it's part of a cella, I'm assuming it's a boat. Whatevz.] So he takes his crew and off he goes! I haven't finished it, so I can't tell all the fun details, but so far so good. It's funny because they're at Port Royal and just mentioned Tortuga, and I keep expecting Johnny Depp and Orlando Bloom to pop out.
Maybe it's just my migraine/drug induced state, but I keep on picturing my boo, Alex O'Loughlin as Hunter.
Rawr. Which of course means I imagine other actors as the characters as actors. Is that just me or do other people do that? I should seriously move to Los Angeles; I'd be a kick ass casting director. Let's see who else, shall we? I promise no spoilers.
Sir James Almont aka Governor of Jamaica?
Probably the guy who played the governor in Pirates of the Caribbean,
Yeah, that guy. Jonathan Pryce.
Hackett would definitely be Tom Hollander from Pirates, too.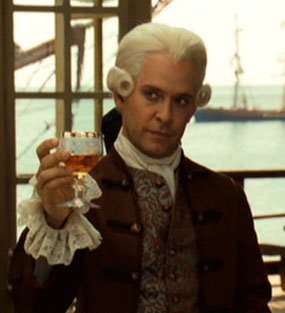 Haha, yes, he's all ready!
Young Anne Sharpe would be Dakota Fanning. LOVE HER.
She's going to be a man slayer in a few years. Watch out men. SHE'S COMIN.
Bassa? I immediately thought of this guy:
Michael Clarke Duncan. Yeah, he could definitely play a huge, mute pirate.
Lazue would be Kiera Knightly, especially when she dressed up as a man in Pirates II.
Plus I just love her.
GORGEOUS. And that's it. OH WAIT. Cazalla would definitely be Antonio Banderas.
This would be one insanely sexy movie. Haha. So now when you read this book, you'll be imagining all these people. And of course I had to add images. Have I ever had a blog post without images? Bad habit, oops.