First, this is what I want my future house to look like:
Please and thank ya!
Day 19 → a talent of yours.
I'm not going to lie, I avoided this post because I don't think I'm exactly "talented" at stuff. Sure there's stuff I can do, and some stuff I can do pretty damn well, let me tell you, but there's always someone better. On the other hand, there's always someone worse, so I guess it works itself out, right? Well, yesterday I pulled out my violin and played a few tunes. I still got it. :] I went to Music & Arts to get rosin, so hopefully I'll be playing more often. As far as the guitar goes, I am one bad ass tuner. And I've strung a few notes and chords together in a pleasing manner. (I wouldn't call it a song.) But it's not like I can pick it up and play something you'll recognize, aside from the Ode to Joy. Give me any instrument, I can play that bad boy.
Day 20 → a hobby of yours.
Well, that's what this blog is all about, innit!? So I'm not going to go into much detail with that. Only I learned how to crochet one summer at my grandma's house when I was 15. I was hooked. Ha! I went back a month later, and she taught me how to knit. Two years later I bought a sewing machine, and started getting back into cross-stitching. I've always loved cooking and baking, but it's gotten more serious now. (and fun. And yummy.)
Yesterday me mam and I went to Jo-Ann's and Michael's looking for yarn for
Sarah/EssHaych.
I wanted to get you some Jo-Ann's brand yarn, because I highly doubt you have it over there, across the pond, but the Jo-Ann's is moving to a new location at the end of April and they don't have
any
of their brand yarn. D'oh. I still picked up some rockin' things though; I'll get it mailed this weekend, most definitely.
Well, if you know me, you know I can't score a few things for myself. Like such:
an ergonomic hook! It's an E (*pauses to update Ravelry*) 3.5 mm, so hopefully I'll be able to make some smaller amigurumi's with it, and not kill my hand. Even though it's usually my left hand that gets cramped, because I curl my pinkie and ring finger around the yarn and soon it starts looking like I have some crazy arthritis. Ew.
a gorgeous fat quarter. I have no idea what I'm going to do with it, but it was too pretty to pass up.
NEON googly eyes! Cheaper than safety eyes, and I prefer these, not only because I have an odd affinity for googly eyes, but because you don't have to try and guess where the eyes go when you're halfway through the head. And they'll go perfect for all those technicolor animals I have a habit of making.
New purse! It's a project bag, but it makes a bloody awesome purse.
Vanna's Choice in pink, and VC's Baby in blue for the MGMT SWEATBAND KAL. (OK, so it might be a one person KAL, but I don't care.) In the MGMT video for "Kids," the little baby is running around, and at one point has a little sweatband with the MGMT logo: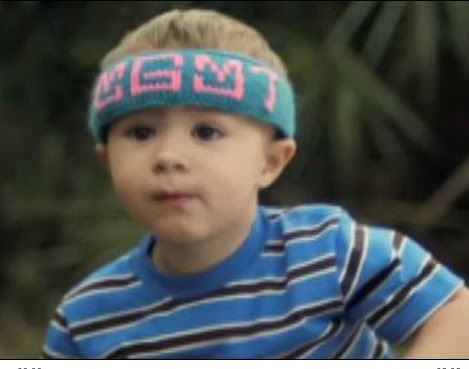 I know the colors aren't exact, but I really wanted to use Vanna's Choice. Those were the closest they had; in fact, the closest of any yarn. So we'll chart, and see how it comes out. It's just like knitting a hat without decreasing...right? LET'S HOPE SO.
Day 21 → a recipe.
I'm going to push this one to tomorrow. I was supposed to cook dinner tonight, but didn't. So I'll freeze the fish, and cook my half pound of scallops and half pound of (
COLOSSAL
) shrimp, and see how that turns out. I'm feeling... scampi-ish, lemony... some angel hair pasta... oo, those snow peas are going to good use. Sounds yummeh!
ETA:
Coolest Flickr blog!